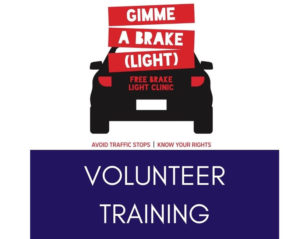 We need VOLUNTEERS to help us change brake lights for our FREE BRAKE LIGHT CLINIC!
Join us right before the Free Brake Light Clinic, Saturday, June 29th from 10am-11am, to learn how to change a brake light!
Then, use your skills to help your friends, family, and community prevent unnecessary police stops, expensive tickets and fines, and possible court appearances by fixing their brake lights during the FREE BRAKE LIGHT CLINIC at 11am.
No experience necessary. The FREE BRAKE LIGHT CLINIC will also include FREE FOOD and "Know Your Rights" workshops.
Hosted by JOTF, Life After Release, and Out for Justice (OFJ).
Questions? Email our Policy Advocate, Yanet Amanuel – yanet@jotf.org.
Add to Calendar
2019-06-29 10:00:00
Volunteer Training: Brake Light Clinic -Baltimore City
Mondawmin Mall Parking Lot
2401 Liberty Heights Ave.
Baltimore, MD 21215