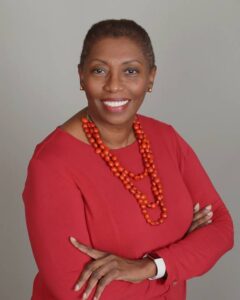 Baltimore, MD. – The Job Opportunities Task Force (JOTF) is pleased to announce that Debra Carr has been appointed the new CEO of JOTF, effective October 17, 2022. An experienced leader with a passion for working in support of underserved communities, Debra will succeed Interim CEO Monique Boyd, who will resume her prior position as JOTF's Chief Operating Officer.
Debra has had an illustrious career of more than 30 years working in the federal government at leadership levels, most recently as Acting Director of the Office of Job Corps for the Department of Labor, a national job training program. Prior to that, Debra spent a number of years with the Department of Labor's Office of Federal Contract Compliance developing equal opportunity policies and programs covering the employment practices of some of the nation's largest employers. Debra also spent a decade with the U.S. Commission on Civil Rights researching civil rights issues and before that she spent several years with the U.S. Department of Justice enforcing civil rights laws. In these positions, Debra gained extensive experience across policy and advocacy, research, and programming – the three pillars that underpin JOTF's work.
"Debra is an excellent fit for JOTF," says Keith Stone, JOTF's Board president. "The breadth and depth of her expertise will be a real asset to JOTF, our partners and our constituents. We are thrilled to welcome Debra to JOTF and look forward to the next chapter under her leadership."
"I am looking forward to working with JOTF and its partners, and anyone interested in economic development and creating job opportunities for communities and individuals that have been voiceless or marginalized," said Ms. Carr.
###
About JOTF 
Since 1996, JOTF has worked to develop and advocate policies and programs that increase the marketable skills, income, and economic opportunities of low-skill, low-income workers and job seekers in Maryland. To achieve this vision, JOTF leverages its efforts in three core pillars:   policy/advocacy, research, and on-the-ground job skills training. Funding sources include the Abell Foundation,  Annie E. Casey Foundation, Fund for Change,  Zanvyl and Isabelle Krieger Fund, Open Society Institute-Baltimore,  David and Barbara B. Hirschhorn Foundation, Harry and Jeanette Weinberg Foundation, and the Working Poor Families Project, among other private and government sources.
Add to Calendar
2022-10-17 16:00:00
Job Opportunities Task Force Names Debra Carr as New CEO