Jan 31, 2008
Patching the Leaky Pipeline: Helping Low-Skill Marylanders Access & Succeed in College
January 2008 Issue Brief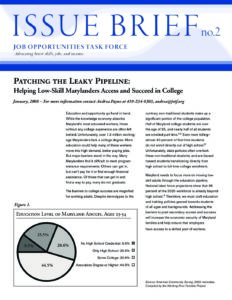 Although Maryland has one of the nation's highest proportions of residents with college degrees, the reality is that many students in the state struggle to make it through the education system and gain the academic skills needed to compete in today's knowledge-based economy.
A new issue brief from the Job Opportunities Task Force (JOTF) documents the challenges facing the large number of Marylanders who either drop out or fail to make a smooth transition from one academic level to the next. The report finds that more than half of all Marylanders in their prime working years—1.3 million local adults—lack a college degree, a basic credential for many good-paying jobs.
The issue brief highlights key problems facing many Maryland students, including affordability, difficultly completing developmental coursework, and the need for student supports. It also offers a series of recommendations for moving students of all backgrounds more smoothly through the post-secondary system and into the workforce.