JOTF, CEO Caryn York Honored in 100 Sheroes Parade
JOTF is proud to announce that our CEO Caryn York was honored in the The Maryland Commission for Women's virtual 100 Sheroes Parade!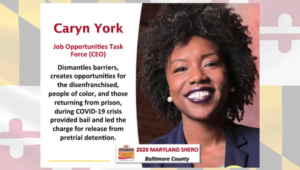 As we celebrate the 100th anniversary of the Passage of the 19th Amendment, which made women's voices equal and heard in the voting booths, we would be remiss if we didn't talk about the gender wage gap. While women have made gains, continued to break glass ceilings and have received more protections under the law over the years, women, and primarily Black and Hispanic women, still suffer from a marked gap in pay, even in a state as progressive as Maryland.
JOTF is laser focused on eliminating the wage gap – for all – through our mission via program development, public policy advocacy and research/public education. We will continue to fight for better, higher, liveable and equal wages for all Marylanders.
#equalpay #endthewagegap #RacialGenderWealthGap #JobsJobsJobs #PayEquity #JOTFMission