May 14, 2021
2021 Legislative Wrap-Up
JOTF advocates for legislative and budget proposals that improve the economic opportunities of Maryland's low-skill, low-income workers and their families. Our public policy advocacy efforts recognize that a healthy Maryland economy requires laws and policies that meet the workforce needs of employers and promote fair and equitable access to economic opportunities for low-income Marylanders.
Despite various obstacles, JOTF ended the 2021 legislative session with key legislative wins on behalf of low-wage workers and job seekers in Maryland.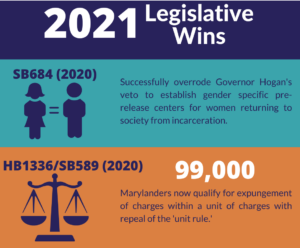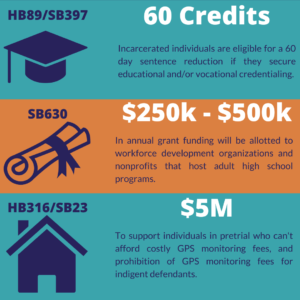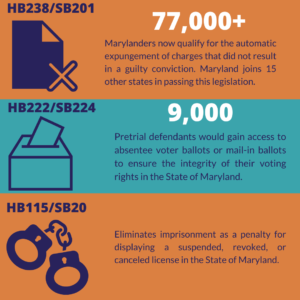 SUCCESSFUL VETO OVERRIDES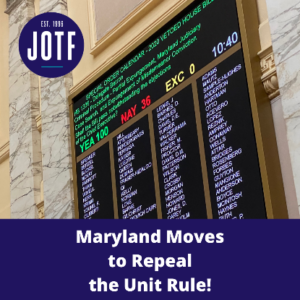 After 15 years of urging support for the repeal of the notorious "unit rule," the Maryland General Assembly successfully repealed the "unit rule" through gubernatorial veto override, effectively putting the bill into law as of February 2021. The unit rule prohibited the expungement of eligible charges and convictions if all of the charges in the "unit" are not eligible for expungement. This rule impacted THOUSANDS of Marylanders who were eligible for expungement but hindered by the rule. In 2014 alone, 77,000 Marylanders were unable to benefit from expungement due to the unit rule but with the override of the Governor's veto this session, they now will.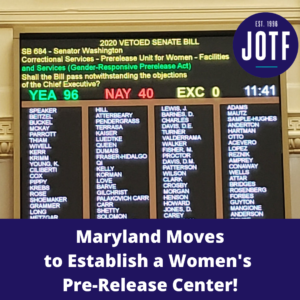 The number of women entangled in the criminal justice system has grown substantially over the past few decades. Although Maryland has several lower security prerelease units across the state that are designated for men, there are no similar facilities for women- leading to a gap in re-entry services provided to women upon release. Last year, the Maryland General Assembly passed Senate Bill 684 to establish standalone pre-release centers for women but was vetoed by the Governor.
This Session, the Maryland General Assembly gave final approval for women's pre-release centers through a successful override of Governor Hogan's veto, effectively putting the bill into law as of February 2021!            The work continues to ensure the law is effectively implemented to benefit those who need it most.
2021 PRIORITY LEGISLATION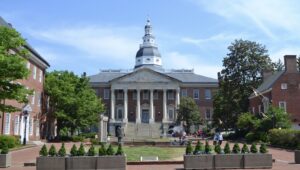 During the 2021 state legislative session, JOTF successfully passed the following legislative and budget initiatives on behalf of low-wage, low-skill workers and job-seekers in Maryland:
ADULT, CORRECTIONAL & POST-SECONDARY EDUCATION / SKILLS TRAINING
Senate Bill 397/ House Bill 89: Correctional Services – Diminution Credits – Education
Thousands of Marylanders exit state and local correctional facilities and return to our communities without educational or vocational experience to support their successful reentry upon release. Without these skills, the likelihood of finding gainful employment, especially with a criminal record, is nearly impossible. Currently, the state of Maryland provides up to 30 diminution credits to certain individuals who simply participate in educational programs but many are released without completion or securing any credential. Since 2013, JOTF has supported legislation to provide an additional 60-day reduction to certain incarcerated persons who successfully complete an educational or vocational program and secure credentialing. The proposed legislation was amended to (1) prevent the stacking of diminution credits for multiple degrees (i.e. achieving two bachelor's degrees will only profit one 60-day credit instead of two), (2) exclude those convicted of a sexual offense, and (3) reduce the benefit to 40 days for those convicted of a crime of violence. 
House Bill 89, as amended, successfully passed through both chambers and is headed to the Governor's desk for his signature.
Senate Bill 630: Education – Adult High School Pilot Program – Funding and Grants
Studies show that 69 percent of Maryland jobs require some training beyond high school, making a high school diploma a necessary, albeit insufficient, credential for the majority of jobs in the state and region. Senate Bill 630 seeks to increase access to high school diplomas/ GEDs by appropriating $250,000-$500,000 in annual grant funding to workforce development organizations and nonprofits that host adult high school programs. 
Senate Bill 630 successfully passed through both chambers with amendments and is headed to the Governor's desk for his signature.
Budget Monitoring: EARN, Increased Investments in Skills Training
Recovering from the COVID-19 pandemic financially means that thousands of displaced Marylanders will need to be retrained to secure positions created in the new economy. The Maryland Employment Advancement Right Now (EARN) Program is a state-funded, competitive workforce development grant program that is industry-led, regional in focus and proven to help businesses cultivate the skilled workforce they need to compete. It is flexible, innovative, and designed to deliver Marylander workers and jobseekers the skills training they need to compete in an ever-shifting job market – and place them in meaningful employment. JOTF actively sought to expand investments in the EARN Program during this legislative session to much avail.
The Maryland General Assembly and Governor Hogan have invested $8.5 million for the EARN program in FY22, a $1 million increase compared to last year.
DECRIMINALIZING POVERTY & RACE
Senate Bill 23/ House Bill 316: Conditions of Pretrial Release – Home Detention Monitoring
During the pandemic, the courts moved to release pretrial defendants to home detention. In most jurisdictions, the courts contract with private home detention monitoring companies, where the defendant is responsible for home detention monitoring fees. These fees include set up, daily rates of up to $20 per day, urinalysis, and disconnection fees. If the defendant is unable to pay the monitoring fees, they risk incarceration as payment of fees is a condition of release and nonpayment triggers a 'violation'. So the move to assign defendants to home detention in an effort to reduce the pretrial population and a reliance on cash bail resulted in persons being re-incarcerated due to costly fees. This is the criminalization of poverty and race and is most pronounced in Baltimore City and Prince George's County where the impact falls disproportionately on low-income Black workers. The legislation as introduced would require the state or local jurisdictions to cover the costs of home detention fees for indigent pretrial defendants. As amended, the legislation would (1) require the state and locals to cover home detention fees for indigent pretrial defendants and (2) establish a workgroup to study the path towards the elimination of home monitoring fees. Additionally, the state will use $5 million of federal relief funding to cover these costs, overwhelmingly more than what we expected to receive. 
House Bill 316, after concurring with amendments from both chambers, successfully passed and is headed to the Governor's desk for his signature. 
Senate Bill 201/ House Bill 238: Criminal Procedure – Automatic Expungement
Many workers are denied employment opportunities because of charges that did not result in a conviction. Moreover, for these non-conviction charges, a petition must be filed to request the expungement when many assume the incident would never appear on their record. The proposed legislation provides for the immediate and automatic expungement of non-convictions (i.e. acquittals, dismissals, nolle prosequis) from an individual's record.
Senate Bill 201 successfully passed through both chambers with amendments and is headed to the Governor's desk for his signature. 
Senate Bill 874/ House Bill 882: Workgroup to Study Partial Expungement
After 15 years of sustained advocacy, the Maryland General Assembly finally voted to repeal the notorious "unit rule" which prohibits expungement for any charges within a unit of charges from being expunged if all charges in the unit are not eligible for expungement. Senate Bill 874 (1) establishes and formalizes the "partial expungement workgroup" tasked with developing the procedures to eliminate the technological challenges in our criminal justice information system that prevent the partial expungement of eligible charges within a unit of charges and (2) requires the procedures to be complete and presented to the Maryland General Assembly no later than January 5, 2022. JOTF would be an appointed member of the workgroup to ensure diversity in opinion and expertise and urge expeditious movement in the full repeal of the unit rule.
Both bills successfully passed through both chambers with amendments and are headed to the Governor's desk for his signature.
Senate Bill 20 / House Bill 115: Vehicle Laws – Canceled, Revoked, and Suspended Driver's Licenses – Penalties
Displaying a license that is suspended, revoked, or canceled in Maryland is a crime punishable by 60 days of incarceration and a $500 fine. However, many Marylanders either never receive their suspension notices or risk driving anyway to earn the income needed to pay down the debts. This bill eliminates imprisonment as a possible penalty for most of these violations and reduces the points assessed (from 12 to 3 points).
 Senate Bill 20 and House Bill 115 successfully passed through their respective chambers receiving favorable reports and are awaiting the Governor's signature.
VOTING RIGHTS
Senate Bill 224/ House Bill 222: Value My Vote Act
Incarcerated persons awaiting trial (pretrial defendants) and those only convicted of misdemeanors are eligible to vote in Maryland. However, because they have no access to the ballot, they are routinely denied this constitutional right. The proposed legislation would require the State Board of Elections and the Department of Corrections to ensure that incarcerated persons – pretrial defendants and misdemeanants – who have the right to vote are given both a registration form and an absentee ballot. 
House Bill 222 successfully passed through its final concurrence vote in the House and has been sent to the governor's desk for signature.