Nov 1, 2009
Unemployment Insurance: Rescuing Maryland Workers & Buoying Local Business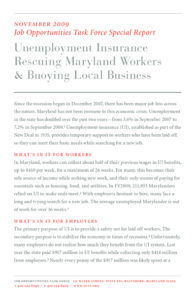 Throughout the recession, the Unemployment Insurance system (UI) has provided a critical economic safety net.
UI has helped workers meet their basic needs, and has kept revenue flowing to employers when they've needed it most.
In a new Special Report, JOTF finds that despite alarm over a declining trust fund and increasing UI taxes, the state UI system is working as intended, and with prudent policy choices in the 2010 legislative session, it will continue to serve both businesses and their workers.  By acting quickly, Maryland can claim up to $126.8 million in federal support to re-build the UI trust fund.
Download the Report (PDF)