Project JumpStart Employer Spotlight – Regional Contracting Services, LLC
For the past 12 years, JOTF has partnered with Associated Builders and Contractors to run Project JumpStart, a pre-apprenticeship construction training program that helps low-income workers obtain entry-level construction skills necessary to enter employment with a direct link to stable jobs.
Approximately 75% of residents enrolled in Project JumpStart are unemployed at enrollment; many have limited work experience and most have a history of significant criminal justice involvement. At the end of the program, approximately 75% of graduates secure jobs with local employers. We could not be this effective without a dedicated community of staff, volunteers, employer partners, and of course, our participants! As a tribute to their outstanding hard work and contribution to our mission, each quarter we will spotlight one of these champions. This quarter, we would like to introduce you to Regional Contracting Services, LLC, a long-time supporter of Project JumpStart.
Founded in 2001, Regional Contracting Services is a self-performing commercial construction firm specializing in rough and finished carpentry, furnishing and installing doors (including frames and hardware), bathroom accessories, interior trim, in-wall blocking and various interior fit-out material. The company also provides project set-up services, including job site trailers and building temporary decks, ramps, and covered walkways. We connected with their President, Beverly L. Thomas, to learn more about Regional Contracting Services, why they work with Project JumpStart, and the construction industry. After hearing about Project JumpStart from a general contractor, Beverly reached out to Kate McShane, JumpStart's Job Placement Manager, and hired two JumpStart graduates.
Since then, Project JumpStart has become "the only recruiting source [Regional Contracting Services] utilizes for City of Baltimore and Baltimore County projects."
According to Thomas, "The recruiting process is easy. When we call Kate, there are candidates available, eager and ready to work. The tangible benefits include future employees who are apprenticeship-ready, OSHA-10 certified, First Aid & CPR certified, and they come with their basic carpentry tools."
With long-term hiring practices, apprenticeship program, and a regional footprint, Regional Construction Services provides a great opportunity for Project JumpStart graduates – particularly those interested in a career in carpentry. So what exactly does a career with Regional Contracting Services look like for residents coming from Project JumpStart?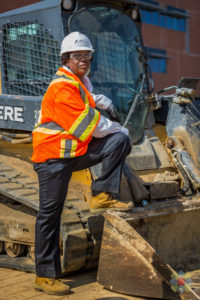 Beverly outlined it for us: "First and foremost, we only recruit and hire when the needs are long-term. All new hires are enrolled in apprenticeship school to improve their carpentry skills. As a company we can't grow unless we have an adequate number of tradesmen who are highly skilled and learn all scopes of carpentry work. Finally, and most important, our projects aren't limited to Baltimore City and Baltimore County. An employee will move from project to project throughout the DMV. This provides long-term and sustainable employment."
In addition to the opportunities available from working with Regional Contracting Services, Thomas touched on the benefits of the construction industry, noting level of compensation, the life-long value of acquired skills, and a myriad professional and personal use of knowledge gained as key.
We at JOTF are thankful to Beverly and Regional Construction Services for their continued support of Project JumpStart and our program graduates.
Interested in learning more about Regional Construction Services and their work? Here's how you can reach them:
REGIONAL CONTRACTING SERVICES, LLC.
719 KENNEDY STREET, NW
WASHINGTON, DC 20011
PHONE: 202-234-8981
WEBSITE: WWW.REGIONALCONTRACTINGSVCS.COM